80 Portraits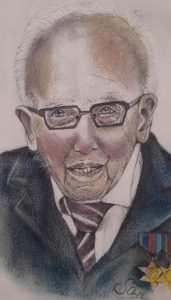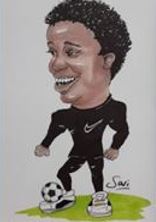 As part of our 80th Anniversary celebrations throughout 2022, our talented Corporate Partnerships Manager Victoria Clarke has pledged to draw 80 pastel portraits or caricatures before the end of the year, donating all proceeds towards helping people live active lives, free from the impact of arthritis.
How to Commission a Portrait
To commission a portrait for you or your loved one, please visit www.justgiving.com/80portraitchallenge and donate an amount based on what type of portrait you'd like to receive:
Pastel Portraits
£45 = 1x One-Person Portrait, up to A4 size
£60 = 1x Two-Person Portrait, up to A4 size
£80 = 2x One-Person Portraits, up to A4 size
Caricatures
£30 = 1x One-Person Caricature, up to A4 size
£40 = 1x Two-Person Caricature, up to A4 size
£50 = 2 x One-Person Caricatures, up to A4 size
When you donate via JustGiving, please don't forget to select the box beside "I'm happy to share my contact details with Victoria Clarke for the purpose of thanking me" to allow Victoria to contact you to discuss your portrait subject and specifications.
Portraits will be sent to you in a black cardboard mount, posted to you by Royal Mail (£7.95 postage & packaging applies).
Victoria's Story
"Arthritis has been very close to my heart. Family members have been affected by the condition for many years and I fully understand how hard it can be to live with it. Arthritis Action staff work tirelessly to offer a vital service to help people cope with the debilitating symptoms of arthritis. Their service has been invaluable for countless people, especially through the ongoing pandemic.

I consider myself a Corporate Partnership Manager by day, and a 'hobbyist and amateur portrait artist' by night! I taught myself how to draw as a child, before really rekindling the hobby during the first lockdown in March 2020. What better way to mark this incredible milestone but to utilise my skills and give my time by offering portrait commissions to help raise funds, while also putting smiles on people's faces as they see their commissioned portrait come to life."
Check our 80th Anniversary page for more exciting events and activities, or get involved yourself! You can drop us a line at fundraising@arthritisaction.org.uk.