When:
15- 03- 2017 – 16- 03- 2017
all-day
2017-03-15T00:00:00+00:00
2017-03-17T00:00:00+00:00
Contact:
Self-Management Event
0203 781 7120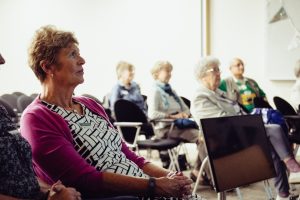 We run Self-Management Events at different venues across the country. They take place over two half-day sessions and are open to the public. Attendance is free for Members and non-Members are charged a nominal fee – and get a free annual Membership!
As an attendee, you will learn how to manage your arthritis by trying out different techniques to see what works best for you. In short, our self-management events may help you overcome the physical & emotional problems caused by living with arthritis that can affect the quality of your daily life.
Places must be pre-booked.
If you are interested in attending a Self-Management Event send us an email by
clicking here,
or call 
020 3781 7120
to find out more.
Our next event near you will be in Bury St Edmunds (venue TBC) on 15th and 16th March 2017. Both half-days must be attended.
To Book – please email us info@arthritisaction.org.uk or call us on 0203 781 7120
Please note, we have high demand for our events, so book as early as you can, to avoid disappointment!