Arthritis Action is pleased to announce a webinar covering Rheumatoid Arthritis.
"Rheumatoid Arthritis: All You Need To Know" will take place on Thursday 23 July 2020, 11am – 12pm.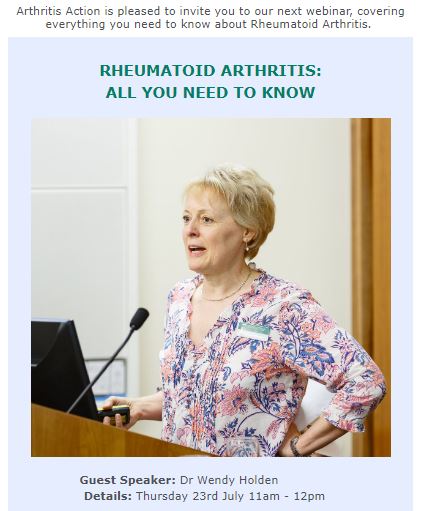 The webinar will be presented by our CEO Shantel Irwin, and our Medical Advisor Dr Wendy Holden, Consultant Rheumatologist at North Hampshire Hospitals, addressing all aspects of living with Rheumatoid Arthritis, including diagnosis, treatment, diet, and the impact of COVID-19 and shielding.
If you are interested, you can register here. For more events, please visit our Events Calendar.
You can submit questions ahead of the webinar, by emailing onlinesme@arthritisaction.org.uk.