When:
08- 08- 2017 @ 6:00 pm – 8:03 pm
2017-08-08T18:00:00+00:00
2017-08-08T20:03:00+00:00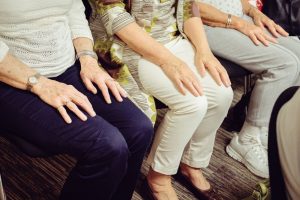 Please come along to our London Arthritis Action Group to  meet others living in your area with arthritis, share hints and tips and  to let us know what you would like to gain from the Self-Management Approach.
You will be able to meet our Guest Speaker Susan Brain.
Susan Brain has been supported by Arthritis Research UK, to learn about new ways to control the pain associated with arthritis. She will briefly describe her career and then discuss her research into TRP channels. These are membrane channels, found on nerve cells that are thought to be involved in mediating pain in arthritis. Her work involves a range of techniques, that has revealed that two channels (TRPA1 and TRPV1) are involved in mediating arthritis pain. Most recently she has discovered a protective mechanism involving a new TRP channel (TRPC5). She will discuss the research that she is now funded to do on this, involving humans with osteo-arthritis pain.
If you would like to attend, please get in touch with us on 02037 817120 or email us info@arthritisaction.org.uk .