Publications
Arthritis Action has produced a number of reports and publications looking to identify new ways of supporting people living with arthritis in the United Kingdom.
Our Impact
As the pandemic continues to affect people, organisations and charities across the globe, we have had to constantly respond to rapid changes and uncertainty throughout the year. With increasing NHS waiting times and lockdowns affecting over 5 million people waiting for surgery or to be seen by their healthcare practitioner, demand for charity support has vastly increased. We are very proud to have provided vital services to people living with arthritis and to those who have been affected by the delays.
We are very pleased to have continued to offer individualised support to our Members. We have successfully organised over 150 Group meetings and events this year, with over 800 people in attendance. We have also provided much-needed telephone support to more than 3,000 people this year, and have reached an audience of 33.7 million through our PR efforts and media coverage.
To learn more about our impact, have a read through our 2021 Impact Report (opens PDF document).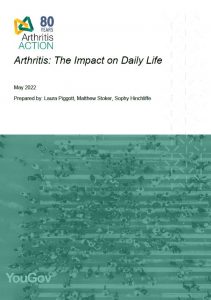 On 15 June 2022, we published research carried out by YouGov to explore and better understand the experiences of people of working age in Great Britain who live with osteoarthritis or rheumatoid arthritis.
The report, surveyed 2,120 people, and provides insights into people's diagnosis journey, working lives, mental health, and how they access support.
Read the YouGov report here (opens pdf)
COVID-19 and Arthritis Survey Results
In light of World Arthritis Day, 12 October 2020, we published findings of a survey, looking at the effects of COVID-19 and lockdown on the daily lives of people with arthritis.
During the COVID-19 pandemic, 42% of people living with arthritis reported that their pain has increased according to the survey. Considering there are over 10 million people living with some form of arthritis in the UK this would equate to over 4 million people experiencing increased arthritis pain during the ongoing pandemic.
Read the COVID-19 and Arthritis Survey Report here (opens pdf).
Arthritis: the Impact on Daily Life – With YouGov
On 12 October 2018, we released the findings of a nation-wide questionnaire-based study we commissioned, of people of working age living with arthritis. We found that it is associated with significantly lower levels of life satisfaction than the UK national average, in a survey of 2,074 people with arthritis in Great Britain.
The research, carried out by YouGov, examined the life impacts of arthritis on people of working age in Great Britain, and explored the effects the condition can have on personal well-being, life satisfaction, and mental health.
Read the YouGov Report here (opens pdf).
Overcoming the Challenges
– 
by Spotlight Market Research
In 2014 Arthritis Action conducted research among people living with arthritis (both osteoarthritis and inflammatory arthritis), including in-depth interviews with GPs and senior public health professionals. Its aim was to stimulate debate and inform the medical professions, government, voluntary groups, associations and charities; and also individuals living with arthritis or those caring for someone with arthritis.
Read the Overcoming the Challenges Report here (opens pdf).