Personalised Member Pathway
The Personalised Member Pathway is a new service to support and guide our Members to address both the physical and mental impacts of living with arthritis using self-management techniques and services.
The Member Services Manager will work with you to give personalised support, resources and information based on your situation. We will enable you to set bite-size achievable goals for living a better life with arthritis. There is no limit to the amount of times Members can use this service throughout their membership with Arthritis Action.
How will the Pathway help my arthritis?
By discussing your current arthritis needs with us, you will be able to set your own targets, access the right services, and receive support along the way to keep you on track to achieve your goals. Members who actively self-manage their own care, treatment and support should see a noticeable improvement in their experience of living with arthritis.
How does the Pathway work?
The Pathway consists of:
The Assessment
The Check-in
The Evaluation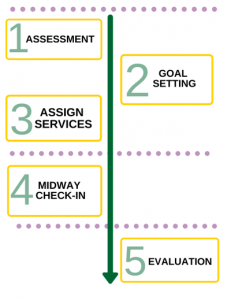 The Assessment
The Pathway begins with a phone call from our team to identify what you currently find difficult, what you would like to change, what you would like to achieve, and together set your own small achievable targets. We will also set a baseline from which to judge your Pathway progress, based on aspects such as pain levels and physical activity.
The Member Services Manager will then explain the available services which can help you achieve your goal. These may be external services like your GP, or Arthritis Action services such as clinical appointments, local Group meetings and online resources.
Following the assessment, an email or letter will be sent to you confirming what was discussed, the relevant services available, and the expected agreed timeline for achieving your goal.
The Check-in
As you progress towards achieving your goal, we will arrange a call to check in on the progress you're making towards your goal. The timing of the check-in depends on what your targets are and the agreed timeline during the Assessment.
This is a good opportunity to ask any further questions you may have, so that we can help provide any additional support or advice where needed.
The Evaluation
At an agreed time based on your goals and progress, the Member Services Manager will call you again and together we will evaluate your Pathway journey and share all the achievements you have made in improving your life with arthritis.  If you haven't quite reached your goal, there may be additional suggestions to help you get there.
Once you have successfully reached your goal, we will discuss any other targets you may wish to work towards to help you live better with your arthritis, and another Pathway will be set up to help you reach this new goal.
How to access The Personalised Member Pathway
Call 0203 781 7120 and ask to speak to the Member Services Manager, or email members@arthritisaction.org.uk. Please note that the Pathway is only available to Arthritis Action Members. Click here to learn about our membership benefits.