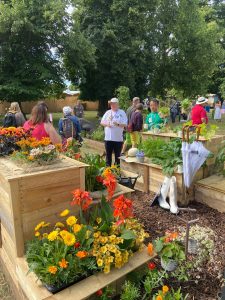 29 June 2022
We are very grateful to our trustee, Colin Beevor, for choosing our 80th Anniversary as the theme for his garden design at the Allotment Gardens at RHS Hampton Court Palace Garden Festival.
Colin who is also the Matron and Clinical Nurse Specialist at Portsmouth Hospitals NHS Trust says, "In my role I see the devastating effects arthritis can have on some individuals, physically, mentally, socially and financially. A lot of people find that gardening offers a way of escaping pain, fatigue and disability."
"Building a show garden can be painstaking, but it's such a rewarding thing to do to celebrate Arthritis Action's 80th anniversary. With the allotment we wanted to celebrate the green and gold in Arthritis Action's branding, build a wildlife hotel and give visitors the opportunity to see a small plot come together quickly so they can take away ideas for making their garden 'arthritis friendly'.
"Working in your garden can be a great way to stay active if you're living with arthritis. Gardening is a good form of exercise that conditions muscles and helps to keep a good range of movement in the joints which helps with arthritis."
Gardening and wildlife hotels enable people to connect with nature and this helps to boost moods and increases feelings of wellbeing which is important for people living with arthritis and musculoskeletal conditions.
The allotment is designed to highlight aspects of arthritis. For instance, the 'Hand' wild life hotel depicts joint inflammation in the fingers and wrists by using logs and red succulents to illustrate inflammation and pain.  A recycled walking crutch has been re-purposed to act as a runner bean frame. Seating areas and non slip slabs to walk on make it easier for people with mobility issues to move around the space and rest when needed. Vegetables and salad are grown on the allotment to remind people that a good diet is key to self managing arthritis.
The Show opens on Monday 4 July and runs until Saturday 9 July and will be manned by volunteers from Queen Alexandra Hospital in Portsmouth and Arthritis Action. It will be a wonderful opportunity to speak to some of the 140,000 expected visitors and highlight the self-management approach to arthritis.