Paula's Story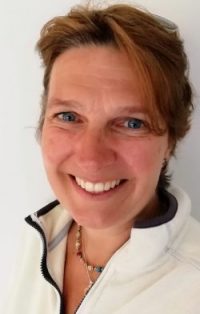 Paula, 51 years old, shares her story on living with arthritis and how self-management techniques have helped her reduce the symptoms of arthritis.
I was diagnosed with psoriatic arthritis in 2002. I spoke to my GP about the aches and pains I was feeling, and was referred to a rheumatologist who officially diagnosed me. I was pregnant with my second child at the time.
My arthritis led to a great deal of pain, particularly in my hands, feet, hips and knees. At its worst I struggled to walk, and couldn't even do up the poppers on my new-born's baby grow. I work as a science teacher, and I initially struggled with the everyday jobs I previously took for granted. Things like lifting things and undoing jars became very hard when my arthritis flared up.
"Physio was a great help to me, and really helped relieve the pain I was feeling."
I have been prescribed a number of drugs over the years to help reduce my symptoms, but had to stop many of them due to the very negative side effects that came with them. I have recently been prescribed Secukinimab (Cosentyx), which I am still taking and is making me feel a lot better than before.
My mum discovered Arthritis Action by doing some research online, a year or so after I was diagnosed. I initially registered for a physiotherapy appointment through the charity in 2005 to help relieve my piriformis. The physiotherapy was a great help to me, and really helped relieve the pain I was feeling. Nowadays I make sure to do lots of Pilates and short exercises every day, to strengthen the muscles supporting my joints.
I also follow Arthritis Action's advice on eating and food (I really like their recipe suggestions!), however this wasn't much of a change to my previous diet and as such hasn't had a huge effect for me personally.
I'm very thankful for the help that Arthritis Action has provided me. If you're living with arthritis, I'd definitely recommend joining the charity and seeing how they can help!