Easter Challenge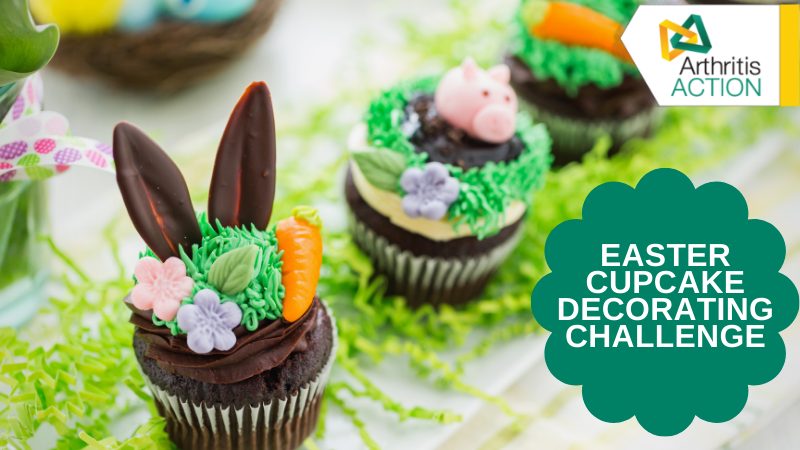 To celebrate Easter this year, we are inviting you to take part in our Easter Cupcake Decorating Challenge, in support of Arthritis Action. This has been inspired by Arthritis Action's Trustee Colin Beevor and the Rheumatology Department at Portsmouth Hospital, who came up with the creative idea to help raise money to improve the lives of people living with arthritis.
To take part, all you need is a group of family, friends or colleagues who like to compete (and eat cupcakes). You don't have to be in the same room or even country – everything can be done remotely (apart from the actual decorating and eating).
Follow these easy steps:
Choose a group of family, friends or colleagues to invite to take part.
Email them the following invitation:
 Dear Friend,
You have been chosen to undertake the Easter Cupcake Decorating Challenge – Prize: bragging rights and title of Master Decorator.
If you want to opt out, you are kindly asked to donate £5 to Arthritis Action and pass on the Challenge to someone else.
When you have decorated and embellished your cupcakes (using anything you have in hand), send in a photo of yourself and your creation (before Midnight xxxx xxxx insert date) to xxx@xxxx (insert your email address as organiser).
All taking part will be invited to vote for the best decorated creation.
Vote on your favourite cupcake by donating £1 to vote. 
Pay donations through our challenge JustGiving page, on or before Sunday 11th April.
Don't forget to send us some of your winner's photos to iza@arthritisaction.org.uk and we'll promote them on our Arthritis Action social pages
Enjoy!