When:
30- 09- 2020 @ 11:00 am – 12:00 pm
2020-09-30T11:00:00+00:00
2020-09-30T12:00:00+00:00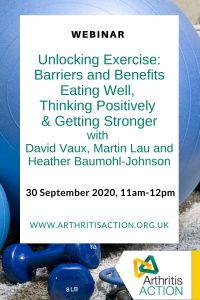 We are very pleased to host our next webinar "Unlocking Exercise: Barriers and Benefits – Eating Well, Thinking Positively, and Getting Stronger" on Wednesday 30th September, 11:00am – 12:00pm.
The webinar will explore a comprehensive approach to restarting exercise and preventing the loss of muscle strength and function. Our expert panel will cover the barriers and benefits to exercise, including: immunity, weight management, community engagement and mental wellbeing.
The Panellists will include:
David Vaux, Registered Osteopath and Therapies Manager and Exercise Lead, Arthritis Action
David Vaux Martin Lau, Heather Baumohl-Johnson Registered Dietitian and Services Development Manager, Arthritis Action
Heather Baumohl-Johnson, Clinical Hypnotherapist and Director Of Services & Operations, Arthritis Action
If you are interested, you can register here. For more events, please visit our Events Calendar.
If you have any questions you would like the panel to answer in relation to exercise and arthritis, you can contact us by emailing onlinesme@arthritisaction.org.uk. Questions for the webinar must be submitted by 23rd September.