Leah Boylan, Arthritis Action's new Group and Events Officer recently joined the Arthritis Action team to develop our Groups and Self-Management Events across the UK.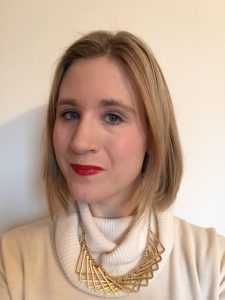 What is your background?
Originally headed towards a career in teaching, I made a jump into the charity sector and have not looked back since. With a keen interest in Events Management, I previously worked to provide supportive and informative activities, meetings and put together support groups for people with Learning Disabilities and Sight Loss, before joining Arthritis Action in December 2016. In my spare time I volunteer as a leader for Girl Guiding UK, which has taken me to many different corners of the Earth.
What do you feel the charity offers people living with arthritis? Why do you recommend becoming Member?
Arthritis Action does not take a one-size-fits-all approach and give our Members the opportunity to explore what is right for them to help them manage the impact of their arthritis.
What do you do in your day-to day?         
No two days are the same for me. I could be travelling to a Self–Management Event one day, or delivering a talk to the community group the next. It all depends on my diary!
What is your favourite thing about our events?
Getting to meet the Members and finding out about what they want to achieve while getting the most out of our Membership benefits, and following the principles of pain self-management.
Favorite sandwich filling?  
Cheese, cucumber and salad cream, preferably on sourdough bread.
I am looking forward to meeting as many Members as possible!
What is your favourite inspirational quote?
"No act of kindness, no matter how small is ever wasted" – Aesop
Train or car? Car. I drive a red car called Heinz.
What is your current favourite book?       
The Secret Life of Bees by Sue Monk Kidd.
And your most embarrassing moment?   
I'm very clumsy and this has caused some very embarrassing moments such as tripping over my feet on a daily basis and knocking things over, it even led to me being told I had no future as a ballet dancer. In essence, don't take me into the glassware section of a department store. I never seem to know where my limbs are!
Thank you so much for answering our questions truthfully Leah!
Thank you for interviewing me, like a movie star!
Don't miss the opportunity to meet Leah at one of our upcoming Group events in your local area, or one of our Self-Management events. Visit our Events Calendar, email us on info@arthritisaction.org.uk, or call us on 0203 781 7120