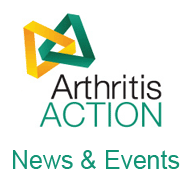 People with arthritis feel isolated, scared about the future and don't want to ask family, friends or doctors for help, according to new research commissioned by UK charity, Arthritis Action.
Arthritis – Overcoming the Challenges by Spotlight Market Research, surveyed more than 770 people with arthritis. Over half of those interviewed feel they need to take charge of their condition because the NHS is over-stretched.
A third of respondents said they feel doctors, the NHS and the government aren't doing enough to help people with arthritis.
A respondent with osteoarthritis said, "My family complain and say, 'go and see the doctor mum,' but I know there is no point."
Another commented, "I don't bother with the doctor any more, they just give you painkillers".
One in three reported feeling low or depressed. Many stated that they felt arthritis was judged more widely as an unattractive, often age-related, condition of little importance. More than half of respondents under 55 said they were scared about the future and felt family, friends and their employer didn't understand what it was like to be in constant pain.
Shortages in physiotherapy appointments or pain clinics in the NHS are perceived to be part of the problem, alongside delays in diagnosis for people who have newly developed arthritis.
There are around 10million people in the UK living with arthritis[1], making it the most prevalent chronic health condition in the country. That figure is predicted to rise to 17million by 2030[2]. One in five GP appointments are for musculoskeletal problems and the NHS spends over £5billion a year on arthritis and related conditions[3].
Commenting on the report's findings, Arthritis Action's Chief Executive, Shantel Irwin, said it is time for the impact of arthritis on individuals and services to be fully recognised:
"Arthritis continues to languish as the Cinderella condition among chronic diseases. This report confirms that people with arthritis feel despondent about the medical help and personal support available to them, which affects their ability to take control of their condition.
"Research shows that a supported self-management approach, like that offered by Arthritis Action, including exercise, weight and pain management, and healthy eating, can significantly improve people's quality of life.
"As the number of people living with arthritis rises year on year, it's time for a step change in the way we view and treat arthritis and we want to see the NHS and charities working together to support more people to self-manage their condition."
Arthritis Action, formerly known as The Arthritic Association, is relaunching, offering hands-on help, proven to combat arthritis pain through self-management and lifestyle.
Alpa Virdi, Director of Spotlight Market Research, commented that health professionals acknowledge the importance of emotional wellbeing in managing arthritis:
"There is increasing recognition by GPs that preventing social isolation is an important part of patients'management of arthritis. Health professionals we interviewed agreed that counselling, therapy and social support services are lacking and need to be better integrated with medical care.
"For the most effective management and the best chance of preventing disability caused by arthritis, all organisations from the NHS to voluntary groups, charities and individuals themselves need to work together and co-ordinate their services."
The report recommends a range of social and physical activities, support programmes, and talking therapies to help reduce feelings of isolation.
Additionally, the report identifies better information, help with life-planning, and access to low or no-cost physical activities as important in supporting the emotional wellbeing of people with arthritis.

AAreportWEB.pdf