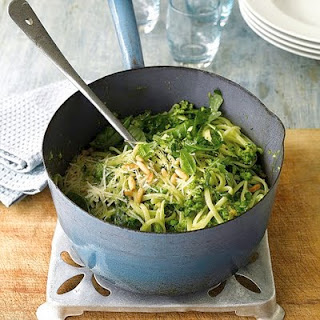 SERVES: 4 (as a sauce)
Ingredients:
200g thawed frozen peas
Flesh of 1 ripe avocado
20g parmesan cheese
1/2 clove raw garlic
1 tbs olive oil
2 good handfuls of fresh basil
30ml pasta cooking water (ie the water you cooked your pasta in)
Recipe Summary
The creamy avocado and pea pesto is a real weeknight winner ­– eat it on wholemeal pasta or spiralised courgettes. This amazing sauce can be made while your pasta cooks, and any leftover pesto is great as a dip.
Avocados are a good source of vitamin K, which may help slow joint deterioration. If you don't like them or find them tricky to cut up, swap the avocado for vitamin E-rich pine nuts or almonds instead.
Method:
Place all the ingredients in a jug or bowl and whizz with a stick blender. Serve over pasta.