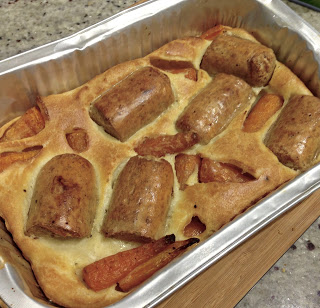 SERVES: 3 -4
Ingredients:
Roasted roots
350g root vegetables or squash (I used whole purple Chantenay carrots and prepared butternut squash)
1 red onion
1 tablespoon oil
Batter
100g plain wholemeal flour
1 medium egg
250ml milk
1 tbs pumpkin seeds (or you could use mixed seeds)
2 tsp wholegrain mustard
1/2 tsp baking powder
Recipe Summary
While meat is a great source of protein and important nutrients such as iron, we generally eat too much of it in the West, both for our health and for the environment. However, many people I talk to are often concerned that a meat-free meal will be an unsatisfying one. So I've put together these two hearty recipes to show that you can have a filling and healthy dinner minus the meat.
My root vegetable 'toad-in-the-hole' is very adaptable — try parsnips, sweet potatoes and even beetroot. For a no-chop version use baby carrots and replace the red onion with baby leeks.
I've made the traditional batter healthier by using wholemeal flour and adding pumpkin seeds. If you want to make it dairy-free and gluten-free, simply use almond milk and a good all-purpose gluten-free flour blend. To keep the fat content down, I advise making this in a no-stick roasting tin or disposable foil tin so the batter doesn't stick too much.
Method:
Pre-heat the oven to 180ºC/375ºF.
Peel the red onion and cut into six wedges. Scatter the onion wedges into a roasting tin or casserole dish. Add the root vegetables, drizzle with oil and toss everything around a little to make sure all the vegetables have an even coat of oil.
Bake the vegetables for 15-20 minutes.
Meanwhile, put all the batter ingredients, except the seeds, in a jug and beat together either by hand or using a stick blender or milk frother. Add the seeds to the mixed batter and stir.
After the vegetables have been cooking for 15-20 minutes, remove the tin from the oven and pour the batter in. Put the dish back in the oven and bake for a further 20-30 minutes or until the batter is well risen and crispy.
Serve immediately.