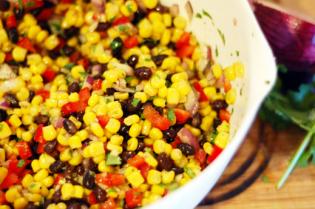 SERVES: 4
Ingredients:
The Salad:
340g (12oz) canned sweetcorn, drained
75g (2.6oz) finely chopped onion
400g (14oz) canned black beans, drained
1 jalapeño pepper, chopped (with the seeds if you like it hot) – optional
1 red bell pepper, seeded and chopped
150g (5.3oz) cherry tomatoes, halved
The Dressing:
350ml (12.3floz) lime juice (fresh)
2 tsp olive oil
1 tsp mild chili powder
1/2 tsp cumin
1/4 tsp pepper
A tiny sprinkle of salt
Method:
Put the drained sweetcorn directly into a bowl. Add the onions, beans, jalapeño (optional), red bell pepper, and the chopped cherry tomatoes and set aside.
For the dressing: Combine ingredients in a small bowl and mix well.
Pour the dressing over the corn and beans mixture and toss. Let the salad sit in the refrigerator for an hour, or even overnight before serving.
FFQ Information
| | |
| --- | --- |
| Food Group | Food item |
| PULSES, NUTS & SEEDS | Beans eg. baked beans, chickpeas, kidney beans, lima beans |
| Fruit | Other (will need to write lime juice) |
| VEGETABLES | Sweetcorn |
| VEGETABLES | Onions, leeks |
| VEGETABLES | Tomatoes |
| VEGETABLES | Peppers (red, green or yellow), chillies |
Permission from Today's Dietitian