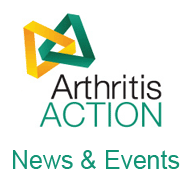 Arthritis Action members will join the staff, trustees and guests from a whole host of organisations to witness the revealing of our new direction, name and look. Arthritis Action's CEO, Shantel Irwin, will be joined on stage by Chair, Robin Nye and Arthritis Action's medical advisor, Wendy Holden. Members will also be able to attend talks by our trustee and physio-therapist, Kevin Young, and food blogger Kate Lawson will give cooking tips and demonstrate how to cook simple recipes.
Liam O'Toole, Chief Executive of Arthritis Research UK will be making a keynote speech at the launch. With more than 25 years' experience in the health arena, Liam became CEO at Arthritis Research UK in November 2009 and is responsible for leading the charity's dynamic and committed workforce in the fight against arthritis.
Alpa Virdi, of Spotlight Market Research & Editing will give a talk on our newly published report which investigates the psychological impact of arthritis and explores NHS provisions for people with the condition.
Our aim is to empower people with arthritis to take control of their lives, manage their condition and reduce the need for medical intervention.
How we do this:
Through research, we know that changes in how we live everyday can help manage the pain and loss of function caused by arthritis. We will continue to promote and develop research that identifies ways to prevent or slow down the process of arthritis, recognise the first signs of the condition and manage its effects through lifestyle change.
We work with experts in health, physical therapies and nutrition, all recognised by professional registration groups including the Health and Care professions Council. Arthritis Action members are encouraged to engage with our professional staff and Associate Practitioners. They receive advice on healthy eating and weight management, exercise, physical therapies and education leading to an individualised self-management plan.
We encourage people to come together locally by running support groups. This provides opportunities to reduce isolation, share experiences and tips on living with arthritis, and to learn more about self-management and reducing the pain of arthritis.
We run self-management events to educate members and non-members in various ways enabling them to take control of their arthritis and therefore their lives.
Our launch will be held in London on 18th June 2015. Should you wish to hear more about our work, please contact Georgia@arthritisaction.org.uk or call 0207 808 7261