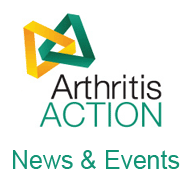 We are delighted to let you know that the first local support group took place in North London on the 20th July and was a great success. As such, we have booked the next meeting to be taking place on 1st September 6-8pm at Primrose Hill Community Association, 29 Hopkinsons Place, Fitzroy Road, London, NW1 8TN. At this meeting Arthritis Action's dietitian, Martin Lau, will give a talk on healthy eating and weight management and its effects on arthritis. Afterwards there will be a short Q&A followed by a discussion between the attendees.
If you live locally and would like to attend please contact Georgia by emailing her at georgia@arthritisaction.org.uk or calling 02037817120 or attend on the night.
If you live elsewhere in the country and would like to help organise a local support group please contact Heather by e-mail: heather@arthritisaction.org.uk or by phone 02037817122.